Ditch the paper; use digital application tools through Salesforce
Over the past several months, we have been rolling out training for our easy-to-use, digital application process in Salesforce for all our Brokers who are selling:

1. Complete Health (formerly Elements)
2. Guaranteed Acceptance (formerly Guaranteed Issue) and
3. Assured Access
I
f you haven't participated in this training, we would encourage you to reach out to your representative as soon as possible. Not familiar with Salesforce? No worries. In as little as 30 minutes, you can be on your way to simplifying your workload and gaining valuable time in the process.

But why would you switch?

- Streamline the "new" application process. Click your way to a completed application with no missing information.
- Reduce the time it takes to issue new policies. Clean applications can go straight to our Underwriting team with little to no manual intervention.
- Remove the need for wet or e-signatures for new applications (excluding Stand Alone Dental).
- The result is an easy new health plan application process for you and your client.

Not only do you gain back time, so does your Medavie Blue Cross team. Reducing the number of paper applications builds capacity so our team can focus on other improvements such as:

- Working more collaboratively with Brokers who are actively growing their business
- Supporting the development of post-sale online tools and resources
- Improving our response time to you, the Broker!


Once you start using the digital application tools in Salesforce, we are confident you will be so impressed, you will never want to touch paper applications again.

Thank you for your cooperation.
Updates coming in Salesforce – April 22, 2023
At Medavie Blue Cross, we strive to stay innovative and have intuitive and user-friendly systems. With that, there will be an update to Salesforce, which includes:

1. Online applications updated to ask for Client Sales Region (Mandatory) when using Quick quote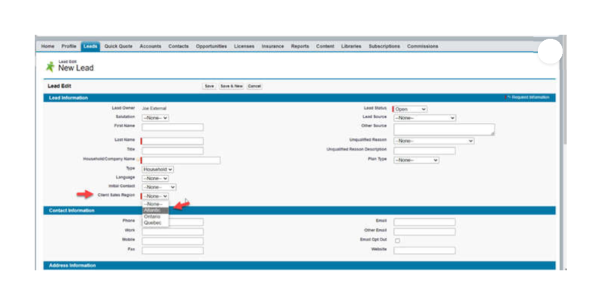 2. Manual Leads updated to ask for Client Sales Region (Mandatory)


Looking for new leads? Try our "Trade Show-in-a-Box" toolkit
To increase your visibility in the marketplace and support the growth of your business we have re-launched our "Trade Show-in-a-Box" initiative. The goal is to equip you with the necessary tools to host a successful booth, accompanied by a Sales Representative at local trade shows, to engage with potential clients and increase your Individual Health, Dental, or Travel sales.

As we have a limited number, these toolkits will be available on a first-come, first-serve basis.

What's included?

Banners (examples below)
Medavie Blue Cross tablecloth
Marketing materials and holders
Ballots and bowl
Swag (based on availability)
Your Account Representative for support
Once you have a trade show in mind, reach out to your Account Representative to confirm the availability and work through your ideal setup.